Professor James A. Beckford, PhD, DPhil, FBA
(1 December 1942–10 May 2022)
It is with great sadness that we learned of the death of Professor James Beckford after a short illness. Jim was an important force in the life of Inform, joining the Board of Governors in 1991, two years after it had opened, and becoming its Vice Chair in 2011. In 1999 he took on the role of Chair of Inform's Management Committee, which involved contact with the staff, usually by email, on what was roughly a weekly basis, until his retirement from the Board in September 2018.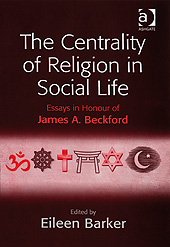 Most recently, he joined us in February of this year, providing a thoughtful and generous review at the launch of Radical Transformations in Minority Religions (2021), edited by Beth Singler and Eileen Barker. This was the latest addition to the Routledge-Inform book series, he himself having co-edited an earlier volume in the series, New Religious Movements and Counselling: Academic, Professional and Personal Perspectives, with Sarah Harvey and Silke Steidinger. At an Inform Seminar in November 2008, he was presented with a festschrift, The Centrality of Religion in Social Life. Essays in Honour of James A. Beckford (Eileen Barker, ed., Ashgate) which had contributions from many of the leading international scholars of religion.
Having obtained a First Class BA in French, Jim's post-graduate career began with a PhD on the Jehovah's Witnesses, which resulted in the publication of his widely acclaimed book, The Trumpet of Prophecy: A Sociological Study of Jehovah's Witnesses, (Oxford: Blackwell, 1975). His research continued in the area of minority and sectarian movements and social reactions to them in various countries, leading to numerous articles, his book Cult Controversies: Societal Responses to New Religious Movements, (London and New York: Tavistock, 1985), and his edited volume, New Religious Movements and Rapid Social Change, which was published as the result of a UNESCO project (London: Sage, 1986). Scores of further books and other publications followed in which he combined meticulous research with clear and innovative theoretical analysis on a variety of subjects including the mass media, theories of religion in advanced industrial societies, chaplaincies in prisons and hospitals, and Muslims in Europe.
It was Jim who founded and served as the first Convenor of the British Sociological Association's Sociology of Religion Study Group (Socrel) in 1975, becoming its Chair between 1978 and 1983. As an internationally recognised scholar he was elected to numerous other official posts in scholarly societies, including the International Society for  the Sociology of Religion (SISR President, 1999-2003);  the Society for the Scientific Study of Religion (SSSR President 2010-11); and the Association for the Sociology of Religion (ASR President 1988-1989). His international reputation was further acknowledged when the ASR presented him with its Lifetime Achievement Award for Contributions to the Sociology of Religion in 2017. In 2004, he was elected as a Fellow of the British Academy.
Jim will be greatly missed by all who knew him or were influenced by his prodigious scholarship.  He is fondly remembered by those who worked with him at Inform as a brilliant scholar, a wise counsellor, and a great human being, who was always a gentleman, with a fabulous sense of humour. We extend our deepest sympathy to his wife, Julie, his children and his grandchildren.